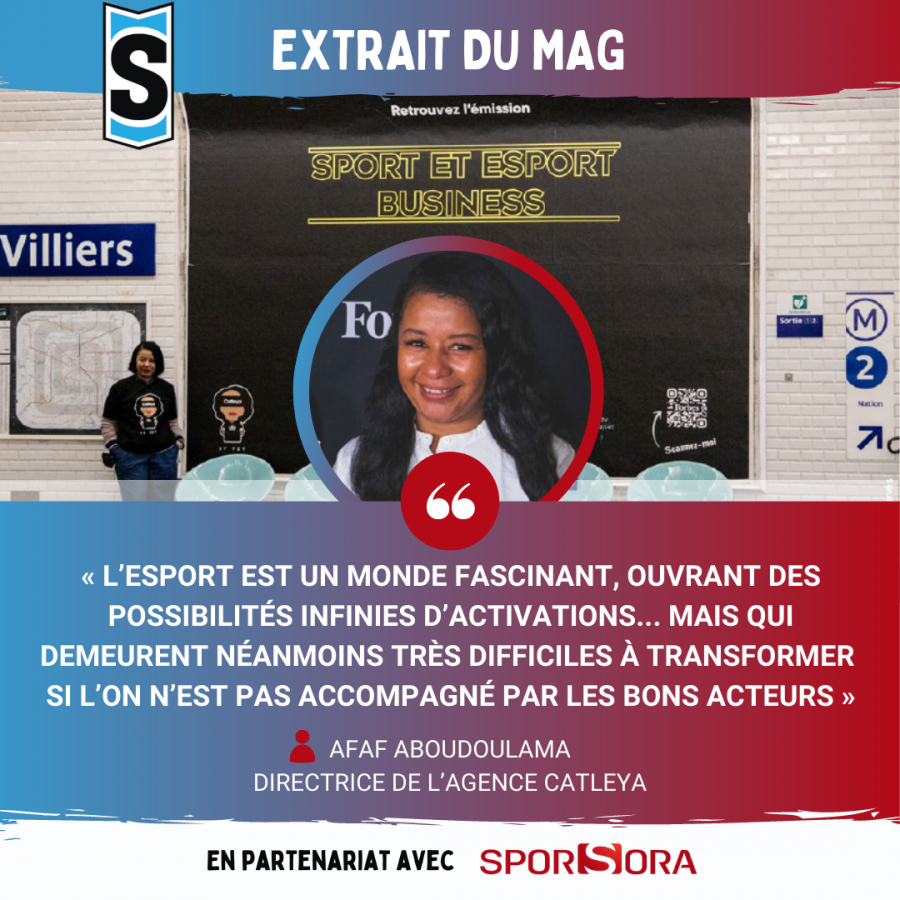 E-sport is a fascinating world, opening up endless possibilities for activations
EXCERPT FROM THE MAG: "eSport is a fascinating world, opening up infinite possibilities for activations… but which nevertheless remain very difficult to transform if you are not accompanied by the right players"
Afaf Aboudoulama has been successfully running the Catleya agency for the past 2 years with the triple objective of getting companies to talk by creating personalised strategic content; gaining visibility in the right media; and spreading the identity of clients through cross-channel brand content. Workaholic, always looking for novelties, Afaf Aboudoulama launched a new challenge a few months ago: to propose a regular meeting with the world of sponsoring to enlighten the actors of sports marketing on the universe of sport and esport in particular. His programme "Sport and Esport Business l'émission", offered on forbes.fr, attracts the greatest experts. Focus.
Afaf Aboudoulama was born in Paris and has been immersed in the media and advertising industry for many years. "I worked for a long time for media companies as a project manager. I quickly realised that you can't support a major account in the same way as an SME or a young entrepreneur, so I decided to leave the media management system and set up my own agency in 2019.
Catleya is its name. "In reference to Marcel Proust in "In search of lost time", Afaf Aboudoulama likes to specify. The agency's mission is to help companies choose their media partner(s), taking into account their real communication needs, in all sectors.
A programme on sponsorship and eSport, the aptly named "sport and eSport business l'émission!
"I created a show on a world-renowned B2B media, "Forbes.fr", explains the young woman. A show talking to companies that want to get into sports sponsorship and esports".
A world that she discovered through her young colleagues. "In talking to some partners, I realised that it was not so easy to sponsor a sports or e-sports event. Many companies ask themselves questions before getting involved, and are confronted with blocking situations, or even lack the culture of the field.
Before launching her project, Afaf Aboudoulama talked a lot with young people: the N°1 audience of the companies that are partners in sport and esports. "I want this programme to be sincere and authentic. This programme is not intended to dissect the figures of sport or esport. The idea is rather to shed light on these issues and help our professional audience to see things more clearly."
A simple insight into sport and esports, "in an audible and understandable vocabulary, delivered by the marketing and communication directors of companies." And the pace is fast. Each week, Afaf Aboudoulama proposes a new programme, to be discovered on Forbes.fr.
Example of a programme: Jean-Michel Aulas, president of the OL, Frédérique Jossinet, director of women's football and feminisation at the French football federation and Sonia Souid, footballer's agent, tell us about the incredible success story of women's football.
Why this strong interest in esport? The question is asked. "During the first confinement, I became aware of the importance of this sector. It's a fascinating world, opening up infinite possibilities for activations… but which remain very difficult to transform if you are not accompanied by the right players. The territory of esports must be approached by competent professional teams, capable of mastering communities with very specific codes.
In order to discuss esport issues in greater depth, Afaf Aboudoulama makes a strict selection of his guests. "Many players claim to be leaders in the esport sector. But they are wrong. I have to choose my guests carefully. Quacks have no place in my show and will not be invited. There are casting errors, even in the media.
Afaf Aboudoulama has noticed that many people in the world of sport are quite ignorant of the esport world, but at the same time want to be part of it. Quite surprising, isn't it? "It's a very particular audience: young and extremely volatile. And unless you're a bit of a gamer yourself, it's very difficult to understand all the codes of esports.
She adds: "The figures regularly announced in the field of esports often make you dizzy. They are phenomenal. Of course, brands are sensitive to this and want to take advantage of it. However, not every company that gets involved in esports necessarily achieves very good results from the very first operation. It all takes time. And a good knowledge of the environment is essential to be effective. I say it over and over again, the complexity of this audience requires a learning phase."
Twitch (Melissa Simoni), Good Game Management (Thomas Gavache), Team Vitality (Julien Dupont), MCES (Romain Sombret, Yannick Agnel), GamersOrigin (Sofyan Chikhaoui), Gozulting (Clément Laparra), etc. were invited to Afaf Aboudoulama's show to talk about marketing operations launched in the esports field. "Some are successful. Others, much less so. Each guest talks about them in a straightforward manner. And that's what I like. Talking about a non-success and explaining why the operation failed… that's instructive!
A strong interest in women's sport
Women's sport is one of Afaf Aboudoulama's other favourite subjects. "During a programme, notably with Lenaïg Corson, we emphasised the fact that female athletes were far from being supported at the same level of sponsorship as men. Is this really acceptable today? I don't think so.
Is it normal that sportswomen can't even travel to international competitions because of a lack of sponsors? I don't think so either. Women's sport is clearly not supported enough by everyone in France.
A glimmer of hope: "Fortunately, there are players who are making things happen," she rejoices. Like Jean-Michel Aulas, president of the OL, Frédérique Jossinet, director of women's football and feminisation at the French Football Federation or Sonia Souid, a footballer's agent…".
One programme per month on the theme of amateur sport
What's next? A focus on amateur sport, "the great loser of this troubled period! She explains: "All these young people and all these clubs that have lost their local sponsors. Who have been forced to postpone their participation in major events… or who will no longer be able to continue their activity due to lack of funds.
With the power of a media like Forbes, (by the way, I warmly thank Dominique Busso, CEO Forbes France and Thuy Nguyen, CMO in Partners Forbes France for their support), read and watched by big decision makers and "the billionaires' club", I have set myself the goal of delivering at least one programme per month on the theme of amateur sport. The idea is to give a voice to small amateur clubs, participatory and social initiatives, as well as to great champions, such as Djibril Cissé or Samy Sana, who frequently plead the cause of the grassroots.
Find all the "Sport and eSport business" programmes here: https://www.forbes.fr/sport-et-esport-business/
Article ©SPORTSORA