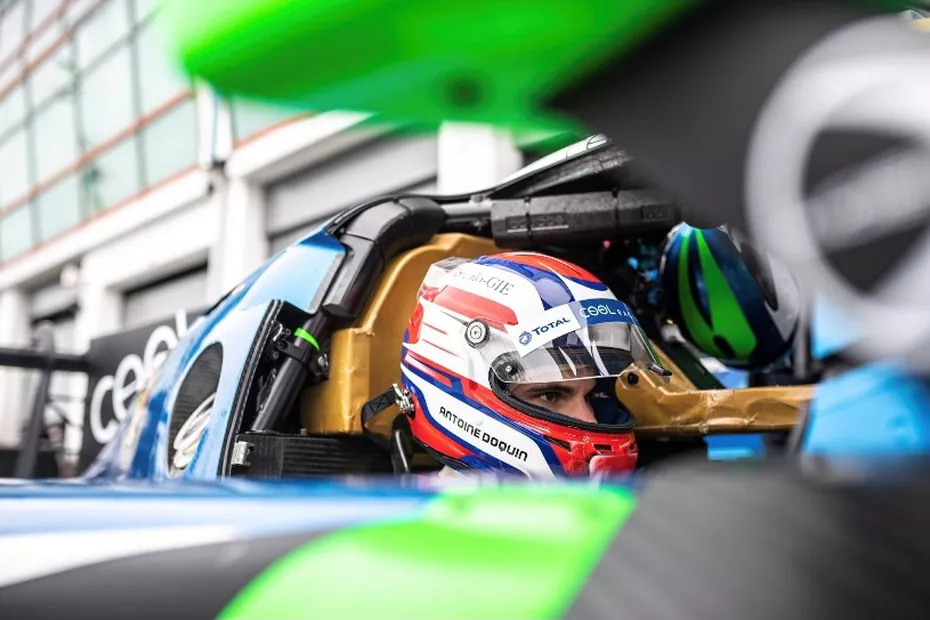 At 16, Antoine Doquin from Marseilles dreams of taking part in the 24 Hours of Le Mans
At just 16 years of age, Antoine Doquin contested his first endurance race at the wheel of an LMP3 on the Magny-Cours circuit on 17 and 18 October 2020. – Jules Beaumont
At 16, Antoine Doquin is a hopeful of French motorsport. But contrary to others, the Marseilles native has decided to learn endurance racing. This season, he will take part in the "Le Mans Cup" on circuits as mythical as Monza, Spa Francorchamps or Le Castellet.
To a well-born soul, value does not wait for the number of years", said Pierre Corneille. This quote fits Antoine Doquin like a glove. After a late start in motor sport, the young driver from Marseille is determined to show that he has the makings of a champion.
"My father used to race historically so I was always on the track watching him. At the age of 12, he ended up buying me a kart and everything started from there. After that, it's true that I started motor sport a few years later than other drivers but that shouldn't be an excuse.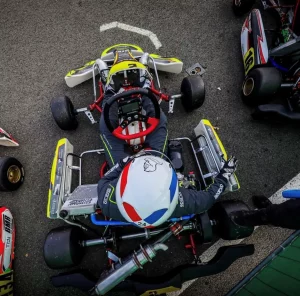 Like many drivers, Antoine Doquin started with karting at the age of 12. After 3 years in this discipline, he decided to switch to endurance racing. – Antoine Doquin
After 3 years of karting, the young man from Marseille did some training in Formula Renault and Formula 4. But it is finally towards endurance racing that he turns. "Thanks to some contacts, I was able to do two tests in LMP3 with the "Cool Racing" team. It went rather well and I was able to do two races with them at the end of 2020″. Covered by Nicolas Lapierre, three times winner of the 24 Hours of Le Mans
Nicolas Lapierre, the Team Manager of his team, is convinced of the young man's potential. "The whole team fell in love with Antoine when we met him. He is a very motivated young man with a good drive. And as he is only 16 years old, it motivates us enormously to make him progress".
For his part, Antoine Doquin savours every piece of advice from the French champion. "Nicolas Lapierre, that's a great record of achievement. Winning three times "Le Mans". To be endurance world champion, it's still a dream. It is a real privilege to be able to learn from him".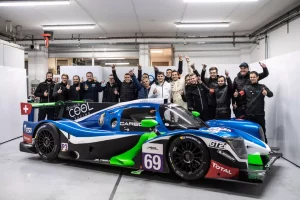 In his second "Ultimate Cup" race, Antoine Doquin won with his teammate Bruce Jouanny at Le Castellet in November 2020. – Jules Beaumont
And the young high school student is learning fast. Third in his first race, Antoine climbed to the top of the podium on his second attempt on his favourite circuit of Le Castellet. "It was a perfect race. With Bruce Jouanny (editor's note: his teammate on this event and presenter of the "Top Gear France" programme), everything worked well and the team did a great job.
More 24 hours of Le Mans than Formula 1!
As a result, the "Cool Racing" Team has renewed its confidence in Antoine for the 2021 season. The realisation of a dream for this son of genealogists. "I've been watching the 24 Hours of Le Mans since I was a child. It is one of the great myths of motor sport and it has always attracted me more than Formula 1".
For Nicolas Lapierre, endurance racing has much more to offer Antoine than Formula 4: "It's a very good choice for a young person to join the Ultimate Cup because there is a lot of free practice, a lot of driving time, three qualifying sessions. A two to four hour race to finish so it will give him a lot of experience. We know that there are other very competitive riders as well so he will be able to measure himself against them.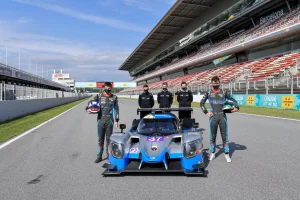 This season, Antoine Doquin (left) is teamed up with British driver Josh Skelton (right) in the LMP3 class for the 6 races of the "Le Mans Cup". – Jules Beaumont
High school student in ski studies, he trains mainly on a simulator
At only 16 years old, Antoine Doquin will be able to compete this season in the six rounds of the "Le Mans Cup" on legendary tracks like Monza, Spa Francorchamps or Le Mans. He will have to juggle between his ski school classes at Barcelonnette (Alpes-de-Haute-Provence) and these long weekends of competitions. "My parents bought me a high-performance simulator which allows me to train and to know each corner of the circuits on which I will then drive. It saves me a lot of time".
And this technique seems to work. For his first laps on the Barcelona circuit in April, the Phocaean took pole position at the wheel of his Ligier JS P320, marked with the number 37. He then led the race for most of his stint before his team-mate, 19-year-old Briton Josh Skelton, crashed out. But the young duo looks promising.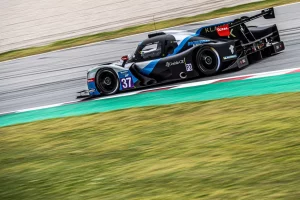 First race of the year and first pole position for Antoine Doquin at the wheel of his Ligier JS P320 on April 17 at the Barcelona circuit. – Jules Beaumont
Even if he is aware that there is still a long way to go before he reaches the top level, Antoine Doquin shows his ambitions. "There are still a lot of stages to go before I can compete in the 24 Hours of Le Mans. I have to pass a milestone and succeed in moving up to the top category (LMP2) in particular. But if I manage to take part in the event next year, I will be the youngest French driver in history to do so. It's an additional source of motivation to show my team that they are right to trust me.
Article ©ProvenceAlpesCôteD'azur