E-SPORT – GRAN TURISMO – ROMAIN GROSJEAN: "I WANT US TO BE PIONEERS
Romain Grosjean has created his own team, R8G Esports, in 2020. (S. Mantey/L'Équipe)
His team, R8G Esports, led by driver Baptiste Beauvois, is competing in the Gran Turismo car simulation alongside the Olympics. Romain Grosjean explains why he got into e-sports.
The final of the "Olympic Virtual Series", the competition organised in conjunction with the 2020 Olympic Games on the car simulation video game Gran Turismo Sport, is being held this Wednesday. Only one Frenchman is entered: Baptiste Beauvois, who has made it through the tricky online qualifying. The 25-year-old virtual driver is a member of R8G Esports, Romain Grosjean's team. Between two IndyCar races, the man with 179 Formula 1 starts presents his team and his protégé.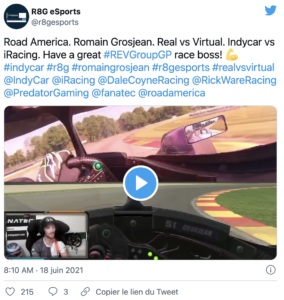 What are your team's goals in a scene that is still in its infancy?
I want us to be there, to be pioneers, to know what to do, to do it before and better than the others. We are always trying to evolve. At the moment we have one or two full-time players, the others are studying or working. The business model means that we can't afford to employ them full time, but we hope that there will be more cash prize tournaments. At the beginning, we were more present on iRacing (a simulation updated in 2019, in full cockpit view), because it's the game I started on. Then rFactor2 is going well, so we got into it, we play on Forza, we have drivers on Gran Turismo, a game Esteban Ocon loves…
What do you think of the rapprochement between the Olympics and virtual sport in recent weeks?
It's great, it's a nice modern move. Esport, when you look at it from afar, you say it's easy, it's not really sport. In fact, it's extremely demanding. These are people who work professionally, who train hard, who sometimes sweat like us… The possibility of participating in the Olympic Games is a great initiative. I was talking to my pilot recently and I told him that it was an extraordinary opportunity.
Can you introduce Baptiste Beauvois, your representative for the Gran Turismo "Olympic Virtual Series" (this Wednesday, June 23rd), the only Frenchman qualified for the final?
We created our team on Gran Turismo last year. It is not my favourite game, but it is the most played car simulation game in the world… Baptiste is the best player in France, he has a crazy level on this game. He's the one who gave the most of himself in the qualifying stages. We knew that he had the chance to go and we are very happy, we hope that it will go well.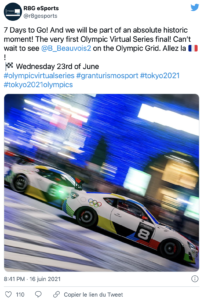 Baptiste Beauvois is only 25 years old, and although he has some experience of the game, he has never competed in a competition with the media attention of this Olympic event. Is that where you come in?
He's already done the World Cup, so he knows the big competitions. And he has my WhatsApp so he knows he can call me at any time, we also have a group with the whole team… It's going to be a day that can reveal a talent, discover a champion… We have to hope that he doesn't give in under pressure.
Do you play simulation games yourself?
More than my wife would like (laughs). In 2011, I had stopped playing completely, but I started again last year with the lockdown and as I like to do things thoroughly… I wanted to improve right away. Fortunately, with the help of the team riders, it goes quickly, they give me good advice. After that, there are obviously phases when I can't play, like at the moment until the end of August (he is engaged in IndyCar among other things).
Article ©Corentin Parbaud